IKEA dressers are notorious for being a really great blank slate for hacks. There are endless ideas out there for how to hack your favorite IKEA dresser and turn it into something completely different. IKEA furniture is affordable, it's (relatively) easy to put together, and it's sturdy enough to last you for years. I've been using IKEA furniture in my home for as long as I've owned a home, and I've done more IKEA hacks than I can count!
So today, I'm rounding up 10 seriously inspiring IKEA dresser hacks that are sure to have you running to your nearest IKEA to grab one for yourself.
10 IKEA Dresser Hacks
We're looking at a broad range of IKEA dressers here, but they all have one thing in common: they look totally different than the "before"! I'm linking to the tutorials for each dresser as well, if you want to give it a shot yourself!
This TARVA dresser was given an entirely new look with some pine trim pieces and a can of paint. I created this cheery yellow dresser for my son's nursery and it's still going strong in his room almost three years later!
This project is easy enough for a beginner take on but looks incredibly impressive. And, by using pine screen trim instead of the more expensive fluted molding, I saved a bundle. The total for all the trim on this dresser was right around $100.
2. Cane Drawers HEMNES Dresser Makeover
I love a good use of cane webbing, and the drawers on this HEMNES dresser look beautiful! I love how they stand out against the black paint. It's a straightforward upgrade that could be applied to any dresser, IKEA or otherwise.
I also love the use of the leather pulls – it's a great reminder that a simpler drawer hardware swap can also make a huge difference on any dresser! This boho feeling dresser would look beautiful in just about any space.
3. MALM Dresser Hack
via My Dear Irene
The MALM dresser is one of the simplest ones IKEA has, which makes it really great for hacking! I love the unique, super ornamental look here, and it's a really affordable and easy project to boot!
I also think this would be really fun with a bright paint color in a kids' room.
4. Simple HEMNES Dresser Hack
This is one of the most straightforward transformations around – just a fresh coat of paint, some super simple trim, and some knew brass knobs and cup pulls. The end! I took on this makeover of a HEMNES dresser I found on Facebook marketplace for our closet, and it was such a fun and simple way to give it a whole new life.
5. Gold Accented MALM Dresser
via Preciously Me
Talk about a super simple but really impactful makeover! For this one, all you need is a MALM dresser and some gold contact paper. I can't get over how high-end the dresser looks with that simple addition, and I have to admit I don't know if I would have thought of this one myself! It's a really glam feel that would be right at home in both a teen space or your own bedroom!
6. Diagonal Stripe TARVA Makeover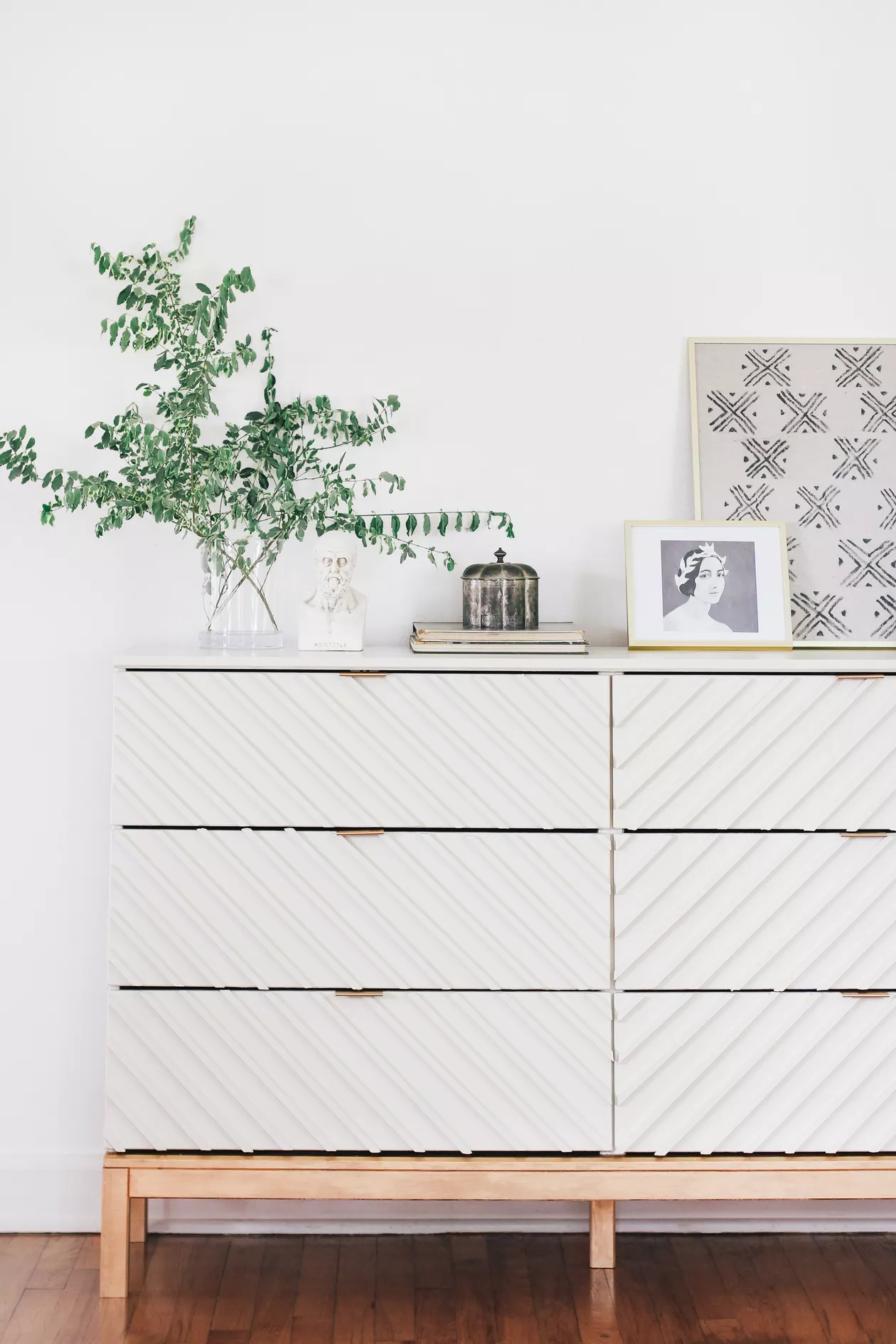 via Hunker
I'm head over heels in love with how this "striped" dresser turned out! Adding some simple square wood dowels to all of the drawer fronts in a diagonal pattern creates a really special look that feels unique and fresh.
This is a great example of how creative you can get with these dresser makeovers! New hardware and paint makes a big difference, but by playing around with trim in unique ways can really transform a humble IKEA dresser!
7. IKEA TARVA Makeover
The TARVA is one of the easiest dressers to make over because it comes in raw wood form, ready for paint or stain or whatever! It's a blank slate piece of furniture!
I made over this dresser using chalk paint for a friend's daughter's room. IKEA dressers are great for kids' rooms because they're affordable, durable, and so versatile! took this one and painted the top part, leaving the legs for stain. I added some simple detail trim on the drawer fronts and swapped the simple knobs out for some substantial brass handles. It feels like a much more elevated piece of furniture, and it's a really beginner-level project!
8. TARVA Hack with Paintable Wallpaper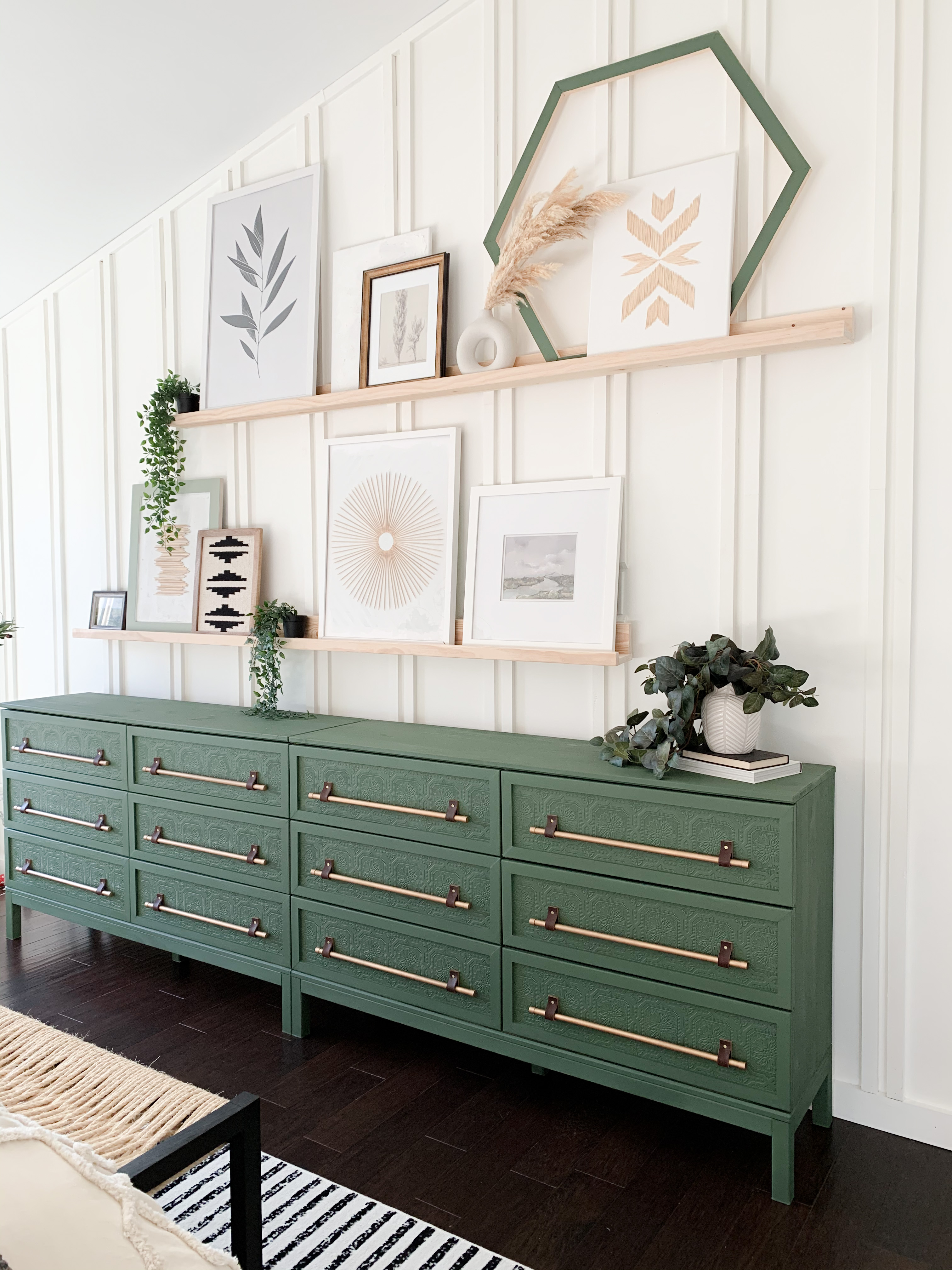 via Champagne Chaos
Paintable wallpaper! What a genius idea! I love how this dresser has so much texture and life, thanks to the wallpaper on all of the dresser drawers. It's such a great idea, and really makes the piece feel special. Combine it with the DIY copper drawer pulls and you've really got something incredible.
9. HEMNES Hack with O'verlays
via Markova Design
This IKEA HEMNES dresser hack utilizes a really creative and simple tool for furniture makeovers – O'verlays! They're a little more expensive than simply purchasing and cutting the trim yourself, but if you aren't interested in a big DIY project, these are a really great tool that can be applied using just some Liquid Nails!
10. Faux Card Catalog
This faux card catalog is another IKEA hack that I tackled myself. I think if I was doing it again, I'd skip the white paint and stain the whole thing so it actually felt a little more vintage. But, I stand by this being a really great way to make over an IKEA dresser!
I simply cut squares of thin plywood and attached them to the drawer fronts in a grid pattern. Add in some card catalog hardware and suddenly it looks like you've got a vintage card catalog on your hands for a fraction of the price!
And there you have it. Ten IKEA dresser hacks that hopefully left you with a lot of inspiration! There is so much you can accomplish with just some trim and wood glue, and once you start playing around with ideas you'll find the sky's the limit!
Other posts you may love